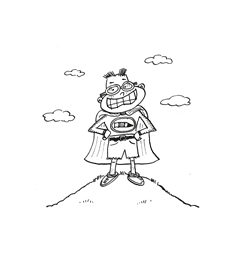 His Out on a Limb™ comic strip was syndicated in 1991 by King Features and continues to attract a loyal following. Unchained™ is a new comic panel that can be found on TalentZoo.com. His first syndicated work appeared in The New Breed, a comic panel showcasing up and coming talent distributed by King Features Syndicate.
Gary has created cartoons for dozen of Fortune 500 companies and brands, including the original "Joe Pool" character for PPG Industries' Sustain pool cleaner which has remained the icon for the brand for over 15 years and counting. Radisson Hotels Worldwide, BellSouth Wireless, Robert Wood Johnson Children's Hospital and Coldwell Banker Real Estate have used Gary's work to make their brands more memorable and visually distinctive in the marketplace.
As the final piece in the creative trifecta, Gary applies his talents to the development of new product innovations for some of the most recognized brands in the world, including Gatorade, Cadbury-Schweppes, Procter & Gamble, Crayola, Absolut and Novartis. He's led group ideation sessions at the top of the Hancock Building in Boston, at a spa in Sonoma, California, in the boardroom of Goldman Sachs in New York City, and in a Tuscan villa in Italy.